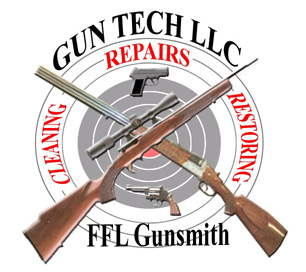 GunTech LLC
Mission
GUNTECH LLC's purpose is to provide firearm inspection, maintenance and repair services to support customers involved in shooting sports, hunting, law enforcement and home defense.
GUNTECH LLC's maintenance and repair services include
Inspection, cleaning and preventive maintenance(disassemble, clean and oil parts, reassemble)
Repair (diagnose and repair/replace components, rebuild as needed)
Repair and refinish (restore metal and wood components)
Test fire repaired units at Central Kansas Gun Club range (member since 2010)
GunTech LLC does not sell guns or ammunition.

GunTech LLC is Federal Firearms Licensed.